Alphaeus Philemon Cole and Pamela Colman Smith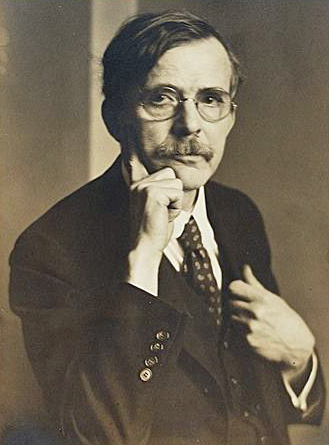 Alphaeus Philemon Cole circa 1920
Alphaeus Philemon Cole (1876-1988) was an American painter, engraver and etcher. He was born in Jersey City, New Jersey, on 12 July 1876. Cole was a portraitist and still life painter, teacher, illustrator and writer. His preferred media were oil and watercolor. His father, Timothy Cole (1851-1931), was a noted wood engraver. From 1893 to 1901, Alphaeus studied in Paris at the Academie Julian with Jean Paul Laurens and Benjamin Constant.
In about 1902, after completing his studies in France, Cole moved to England where he met the sculptress, Margaret (aka Peggy or Pigotty) Ward Walmsley; he married her in 1903. Peggy Cole was a close friend of Pamela Colman Smith, and it was through her that Alphaeus met "Pixie." The Coles became frequent attendees at Smith's weekly open house parties. His name and that of his wife appear frequently in Pixie Smith's personal Visitors Book. On two occasions Cole even drew some fairly elaborate sketches in Pixie's book (see below). In about 1906, Cole made a beautiful oil painting of Pixie. In 1911, Alphaeus and Margaret relocated to the United States but they both remained close friends of Smith throughout her life. On her last trip to the United States, in 1947, Smith visited the Cole's and even advised Peggy Cole to become a Roman Catholic because "it was such fun!"
| | | |
| --- | --- | --- |
| Sketch of "Pixie" Smith dressed as "Gelukiezanger;" the drawing was made in Pixie's Visitors Book by the American artist, Alphaeus Cole, in 1904. Her pose is similar to that depicted in the oil painting that Cole made of her in 1906. | Sketch of a gathering at one of Pixie Smith's "open house parties" in 1904. The drawing was made by the American artist Alphaeus Cole in Pamela's Visitors Book. "Mrs. Pigotty" is Cole's wife, Margaret. | Photograph of the oil painting of Pamela Colman Smith, done in 1906, by the American artist, Alphaeus Cole; the painting is now (2010) part of the private collection of a New York attorney. Cole has painted her dressed as "Gelukiezanger" in a colorful gypsy-like gown and with beaded hair; she is seated Turkish fashion, with her model animals, on the floor of a drawing-room, reciting her Jamaican folktales. |
In 1918, Cole became a member of the prestigious Salmagundi Art Club, the nation's oldest professional art club. From 1924 to 1931, Cole taught portrait and still life classes at The Cooper Union for the Advancement of Science and Art, a privately-funded college in downtown Manhattan. He was a member of the Lyme Connecticut Art Association, and from 1952 to 1953, was president of the Allied Artists of America. He was also an honorary member of the National Arts Club. Cole actively painted and exhibited up to the age of 103. He died in New York City in 1988, at age 112 years and 136 days. Alphaeus is generally recognized as having lived to be the oldest man in the world, whose dates of birth and death can be verified.
Cole's obituary appeared in The New York Times as follows:
Alphaeus Cole, a Portraitist, 112
By MICHAEL KIMMELMAN
November 26, 1988
Alphaeus Philemon Cole, who began his career as a portraitist when Post-Impressionists like Seurat and Signac were considered avant-garde painters, died of heart failure yesterday at his home in the Chelsea Hotel. He was 112 years old.
Mr. Cole, whose work is in the permanent collections of London's National Portrait Gallery, the Brooklyn Museum and several universities, became a member of the Salmagundi Club, the nation's oldest professional art club, in 1918, and was elected to the National Academy of Design in 1930. He was said to enjoy telling of his tea in London with John Singer Sargent and William Merritt Chase.
Mr. Cole, whose father was Timothy Cole, a noted 19th-century engraver of Old Master paintings, was born in Jersey City, N. J., on July 12, 1876.
He studied in Paris at the Academie Julian, under Jean Paul Laurens and Benjamin Constant, and at the Ecole des Beaux Arts.
His preference was for the work of 19th-century salon painters, and he expressed little admiration for Modernism and its progeny. Mr. Cole said in an interview 10 years ago of an exhibition of Lee Krasner's paintings at the Whitney Museum: ''I thought it was even worse than her husband's. What was his name? Pollock.''
Mr. Cole was married to Margaret Ward Wamsley, a sculptor, in 1903; she died in 1961. The next year he married Anita Rio Higgins, a singer, who died in 1973.
References: 1) Stuart R. Kaplan, The Artwork and Times of Pamela Colman Smith (2009), pages 72-73.
2) New York Times Obituary, dated 26 November 1988.
3) Alphaeus P. Cole Papers, 1885-1988. Smithsonian Institution, Washington DC.