The Sola Busca tarot deck is the only complete 78 card deck dating to the 15th century. The most likely date being 1491. The cards were engraved on copper and later hand-painted in colors. The noted tarot historians, Giordano Berti and Sir Michael Dummett, have suggested that the deck may have been engraved in Ferrara and illuminated in Venice (or for the Venetian market. Many of the cards are only known through photographs.

In 1907, the owner of the cards, the Sola Busca family, had reasonably good quality (for the time), black and white photographs made of the complete deck. A set of these photos were presented to the British Museum. Since that time, the original deck has never been placed on display nor again photographed; the current location of the deck is unknown, at least to me!

Shortly after receipt of the black-and-white photographic images of the Sola-Busca Tarot, they were placed on exhibit at the British Museum in London. It is probable that the experience of viewing of this exhibit provided the initial stimulus for Arthur Edward Waite and Pamela Colman Smith to subsequently create their own tarot deck with all 78 cards illustrated, just as all 78 cards of the Sola Busca pack are illustrated.

I believe that Pamela "Pixie" Smith took a lot of inspiration from the Renaissance Sola-Busca images. Both Waite and Smith, as members of the Golden Dawn, were both quite familiar with Renaissance Alchemy. Smith, in particular, was familiar with Renaissance clothing and color symbolism because of the fact that she had spent several years with a theatrical troupe in England and had become an accomplished costume designer and set designer. Indeed, there are striking similarities between some of the Sola-Busca pip cards and Pamela's own designs. A good example is the three of swords pip card (see photos at the right).

A color reproduction of the Sola Busca deck was published in January 1995 by U.S. Games Systems but it is now out of print and a new deck is now both difficult and expensive to obtain.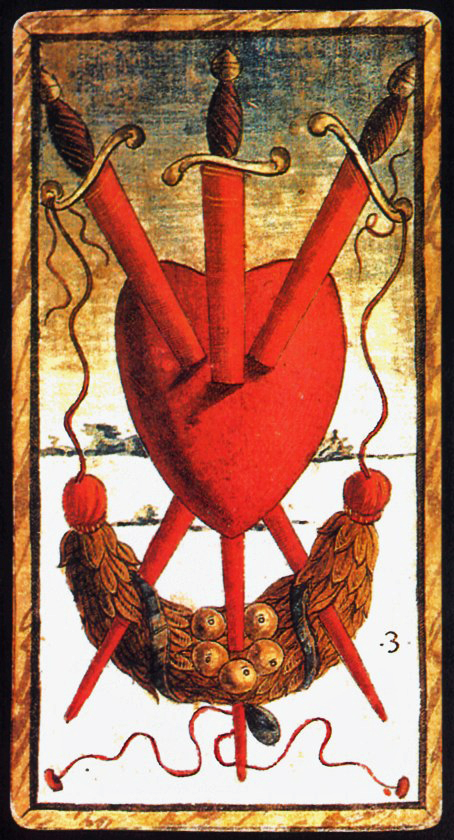 Sola Busca 3 of Swords Card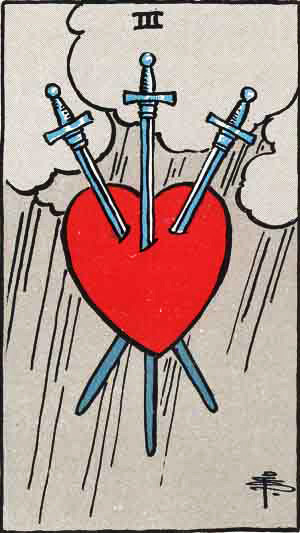 Waite-Smith 3 of Swords Card