This site was last modified on: 30 March 2011

Contents
It has been just over a century since Arthur Edward Waite and Pamela Colman (aka "Pixie") Smith created the world's most popular tarot pack, now known as the Waite-Smith Tarot Deck. During most of the time since that deck was first published in December 1909, "Pixie" Smith's role in creation of the deck has been under estimated. However, mainly due to the research conducted by Stuart R. Kaplan and published (1990) in Volume III of his monumental work The Encyclopedia of the Tarot, the prominent role that Smith actually played in producing the deck has finally become recognized. There are many web sites devoted to Pamela Colman Smith, so why publish another one? It is because many of the existing sites contain incomplete and/or erroneous information concerning both Pamela and her parents. Also, the existing sites provide very little discussion and quality imaging concerning her other major works of art - something that I hope to include at this site.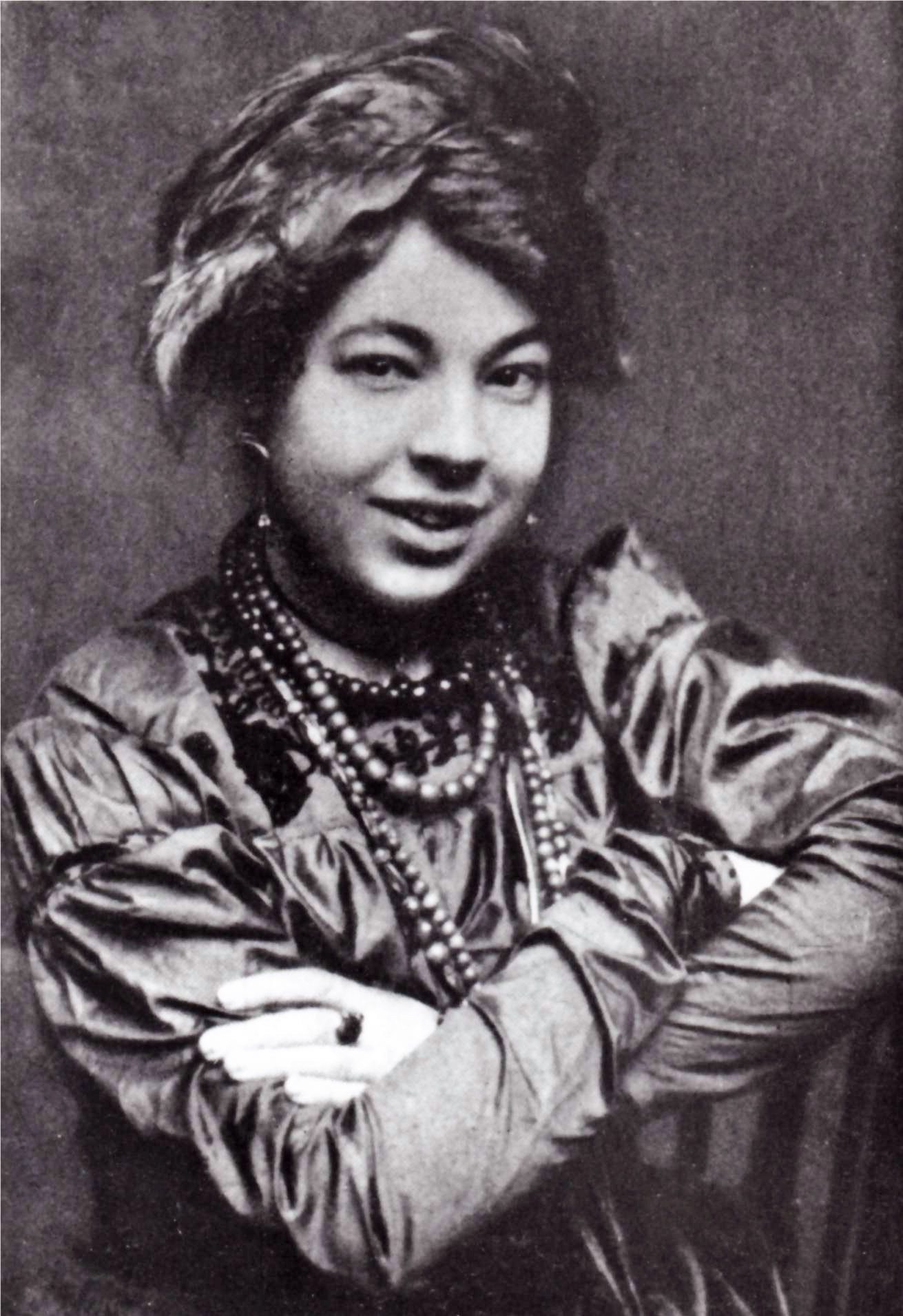 Photo of "Pixie" Smith circa 1912

Corinne Pamela Colman Smith was born on 16 February 1878 at 28 Belgrave Road, Pimlico, Middlesex County (now part of London), England [see her English birth registration record]. The families of both her mother and father were quite distinguished and I have included a special section on their genealogies at this website. Pamela's parents never used her first name (Corinne), but always called her Pam or Pamela. After she grew up, her father called her "Miss Smith."

Pamela's father, Charles Edward Smith (1846-1899), was an American from Brooklyn, New York; his father, Cyrus Porter Smith, was a wealthy lawyer and the first elected mayor of Brooklyn (from 1839-1842). At the time Pamela was born, her father worked for a British firm of decorators: Nicholas, Colshaw and Company. However, during the last decade of his life (1889-1899), Charles was employed by an American financial syndicate: the West India Improvement Company, headed by New York merchant Frederick Wesson. The syndicate was constituted in New York in October 1889, and took over ownership of the Jamaican railway system on 1 January 1890. The company performed successfully for several years and substantially incresed the size of the railway network. However, loans taken out to secure railway ownership by the company, together with the company's purchase of 76,000 acres of prime land in various parts of Jamaica, overextended the firm financially. After defaulting on its notes in 1897 and 1898, the company was placed into receivership by order of the Jamaican Supreme Court. In 1900 the government assumed responsibility for the railway again, making it a separate governmental department. Due to his position as an auditor for the company, Charles was required to spend a great deal of time in both St. Andrew, Jamaica and New York City.

Some sources have indicated that the family of her mother, Corinne (nee Colman) Smith (1834-1896), had originally come from from Jamaica; however, I have found no evidence that supports that assertion. Indeed, it is almost certain that the Colman family derives from New England. Corinne Smith, is said to have been an avid fan of the London theater and occasionally performed as a stage diseuse. She was 12 years older than her husband. Not surprisingly, after her marriage, she consistently understated her age, e. g., on the 1881 English census, where her age is recorded as being only 30. Corinne's father was Samuel Cohen (1799-1865), a prominent book publisher and engraver. Corinne's mother was Pamela Chandler Colman (1799-1865), the author of many children's books - most of them written under the name of "Mrs. Colman." All of Mrs. Colman's books were published by her husband, Samuel Colman in either Boston or New York. In particular, Mrs. Colman published a book in 1846 entitled Stories for Corinne which contains a drawing of herself; in addition, a drawing of her daughter, Corinne, is included in another book she authored entitled The Mother's Present. Pamela Chandler married Samuel Colman in 1824 and had several children. Besides Corinne (1836-1896), there was an older daughter, Pamela Atkins Colman (1825-1900). This older daughter also wrote children's books under the name of "Miss Colman." Her books were also published by Samuel Colman. Thus, the writing and publishing of children's books seems to have been a major occupation for the Colman family. Pamela Colman Smith (1878-1951) was just following in her Grandmother's and her Aunt's footsteps when she too authored several children's books.

During the first ten years of her life, Pamela Colman Smith (PCS) lived in England. The 1881 English Census indicates that the Smith family was then living in the County of Lancashire, Didsbury Parish. Today this parish is in the City of Manchester, in the north of England. The family had two servants including a nurse for PCS.

When her father got a job with the West India Improvement Company, the family relocated to Jamaica. From late 1889 to 1893, PCS resided with her parents in the parish of St. Andrew, Jamaica, a northern suburb of the town of Kingston.

The Pratt Institute

In the Autumn of 1893, because of her demonstrated artistic talent, Pamela's father enrolled her in the Pratt Institute of Art in Brooklyn. At that time, the Pratt Institute promulgated an avant-garde philosophy of teaching that stressed development of the intuitive talents of the students rather than rote memorization of traditional art techniques. It promoted a symbolist style of art that Pamela readily adopted. In all, she studied at Pratt intermittently for about four years. One of her instructors at Pratt was the noted painter and photographer, Arthur Wesley Dow (1857-1922); he encouraged her to study Japanese ukiyo-e style artworks for the way they showed the interplay of light and dark elements. Probably this influence is reflected in Pamela's artistic technique of first outlining her figures with ink before coloring them.

Unfortunately, in 1896, Pamela's mother, Corinne Colman Smith, died in Jamaica.

Pamela intermittently continued her studies at the Pratt Institute for about another year, but apparently never graduated.

During the years 1897-1899, PCS demonstrated substantial artistic promise.

In 1897, when she was only 19 years old, her artwork was exhibited at the MacBeth Galley on Fifth Avenue in New York City. By the end of the year, her illustrations and prints, sold through the Gallery, enjoyed a steady rate of sale.

In 1898, Robert Howard Russell, a major New York publisher, began to feature her artwork in several of his publications. One of these publications was a small book entitled The Illustrated Verses of William Butler Yeats, which marked the beginning of her collaboration with members of the Yeats family.

The year 1899 was one of her most successful years as an artist. That year she illustrated a book with words and music from two old English ballads entitled The Golden Vanity and the Green Bed, each ballad was accompanied by six full color illustrations by PCS. She also furnished eighteen illustrations, including four of them in full color, for a brochure written by Bram Stoker entitled Sir Henry Irving and Miss Ellen Terry in Robespierre, Merchant of Venice, The Bells, Nance Oldfield, The Amber Heart, Waterloo, and Other Dramatic Works. Smith also published two of her own books entitled Widdicombe Fair and Fair Vanity, both of which contained many of her illustrations.

In the Summer of 1899, Pamela and her father made a trip to England. The English trip had primarily been made to investigate employment possibilities for PCS and promote her new book of Jamaican folklore called Annancy Stories, which was also to be published in 1899 by Robert Howard Russell. They called on Bram Stoker, the business manager of the Lyceum Theatre in London. He apparently told them about the forthcoming American tour of the Lyceum Theatre Troop, led by Sir Henry Irving and Ellen Terry. While in London, they also visited Bedford Park to call on the painter, John Butler Yeats (1839-1922), father of William Butler Yeats. John Yeats mentioned their visit and Pamela's book of Jamaican folklore in a subsequent letter written to his son, William Butler Yeats.

Annancy Stories

Annancy Stories was perhaps the most popular children's book ever written by Pamela "Pixie" Colman Smith; the work is a collection of Jamaican folk tales for children interspersed with many of her own black and white illustrations. Pixie had resided in Jamaica almost continuously from about 1889 to 1893 and then intermittently from 1893 until 1899. Pixie heard and recorded many stories told by the Jamaican people about the African spider spirit Annancy. Indeed, she never lost her love of Caribbean colors and folklore populated by spirits and sprites. The stories are told in Jamaican Patois; this is why the "Annancy Stories" should be read aloud for the full appreciation of the beauty of the spoken language. In no way was Pixie making fun of Jamaicans. On the contrary, she was proudly celebrating the land of her youth that was so full of magic and beauty.
Surprisingly, the book is still being printed (see photo of the book cover at the right); the last reprint was in 2006; copies are still available for purchase from Amazon and/or other major booksellers.

The following is a transcript of the original Introduction to the book that was written by a well-known lawyer and writer of the time, Thomas Nelsen Page (1853-1922):

The "Annancy Stories," by Miss Pamela Colman Smith, a young lady who has recently come from Jamaica to live in this country, are perhaps the most original contribution to Negro folklore literature since the day when "Uncle Remus " gave us his imperishable record of "Brer Rabbit."

These new stories are a contribution from the West Indian Negroes. They belong to the same class with the stories of "Brer Rabbit," which undoubtedly inspired the young authoress to collect them, as they have inspired all other writers of folk-stories, since Mr. Harris's genius blazed the way. The differences form one of the points of interest. Some of the tales bear traces of descent from Aesop; others have the impress of the "Arabian Nights," whilst yet others show marks of the less ancient fairy tale. Whatever their origin, however, "Annancy" will prove of great interest not only to all who may enjoy this class of literature; but to that wider public who recognize the value of sincerity, and read only for entertainment.

The young authoress has been gifted with the power to illustrate her stories in a manner as original as the stories themselves.

Both as narrator and artist she has struck out boldly on new lines and deserves the success which it is hoped her courage and ability may bring her.
London's Lyceum Theatre Troop
During her transatlantic crossing in May 1900, PCS made seveal sketches of herself and members of the Theatre Company. In the drawing, Pixie Smith (in bloomers) and Edy Craig confront Uncle Bramy (Bram Stoker). All are dressed as pirates; Stoker wears an HMS DRACULA cap!

The sixth American tour of London's Lyceum Theatre troupe, led by Ellen Terry and Henry Irving, occurred between 30 October 1899 and 18 May 1900. Pamela Smith, who had recently returned from her trip to England (see above), joined this tour as one of the minor cast members. She got along well with the troupe, especially with Ellen Terry who gave her the nickname of "Pixie." Another person with whom she became a close friend was Bram Stoker. He was the business manager of London's Lyceum Theatre and also was the author of several well-known horror novels, including "Dracula" which had just been adapted (in 1897) for the London stage. He admired the illustration work Pamela was doing for Yeats and hired her to illustrate his last novel entitled "The Lair of the White Worm" which was published in 1911.

In December 1899, Pamela's father, Charles Edward Smith, unexpectedly died in New York.

Upon the conclusion of the American tour of the Lyceum Theatre troupe in May 1900, Pamela Smith, traveled back to England with them. With both her parents now dead, it appears that Terry and Irving began to assume a de facto parental role for this newly orphaned young girl. In London, she used her theatrical connections to get jobs as a stage set designer at several London theaters. Pamela also writes and does illustrations for several brochures and periodicals. She begins to use the "Pixie" nickname that Ellen Terry had given her, thus playing on her image as an artist whose life was immersed in mysticism and fantasy. Her persona was that of an authentic mystic with a childlike voice. For several years thereafter, she occasionally would make public appearances with her head wrapped in bright scarves and feathers, with a colorful costume resembling gypsy attire. She would then recite West Indian folktales and chant the avant garde poetry of the time.
Watkin's Books
In 1901, Pamela met and became a good friend of the famous Irish poet, William Butler Yeats; she is soon employed by him and his brother, Jack Yeats, to provide the illustrations for several of their books and periodicals.

Stoker and Yeats introduced Pamela to several occultists who frequented the theatre district around Leicester Square. A popular book store in that area was "Watkin's Books" which had recently opened in 1897. Watkins (see modern photo at the right) was the world's first book shop to openly specialize in occult literature. This shop became a popular meeting place for the London esoteric community. Notables such as William Wynn Westcott, MacGregor Mathers, Arthur Edward Waite and Aleister Crowley all passed through the portals of that shop at Number 21 Cecil Court. Pamela Colman Smith became acquainted with many of these people and did artistic work for several, including Stoker, Yeats and Waite.

In November 1901, primarily as a result of the influence of Yeats, she was initiated into the Hermetic Order of the Golden Dawn Society with the motto: Quod Tibi Id Allis (Whatever You Would Have Done to Thee). Her largest contribution to the Golden Dawn would come several years later, in 1909, when she was commissioned by Arthur Edward Waite to design what became the most popular tarot deck in history - the Waite-Smith Deck.

Photograph of Watkins Books at 19-21 Cecil Court
A Broad Sheet and The Green Sheaf
In 1902, she teamed up with Jack Butler Yeats as co-editor and illustrator for a periodical called A Broad Sheet. Their periodical commenced in January 1902 and contained both original art and literature. This venture demanded a great deal of work but yielded only a small financial return. The magazine was said to possess both charm and originality but it was of only limited public appeal. PCS worked on the publication for only the first year. In January 1903 she pulled out of the joint venture.
In 1903, Pamela produced her own artistic magazine under the title The Green Sheaf. This venture included contributors such as William Butler Yeats, Christopher St John (Christabel Marshall), Cecil French, A. E. (George William Russell), Gordon Craig, Dorothy Ward, and John Todhunter. Her new publication was also short lived, it ran for only a little over a year - 13 issues in all.
In 1905 PCS published another book of Jamaica folktales, both written and illustrated by her, entitled Chim-Chim.
From 1905-1906, Pamela was involved primarily in book illustration. She provided illustrations for the following books:
1905 - Tales from my Garden by Laurence Alma Tadema;
1905 - Four Plays by Laurence Alma Tadema;
1905 - Saints Among the Animals by Alphaeus P. Cole and his future wife, Margaret Ward;
1906 - In the Valley of Stars There Is a Tower of Silence by Smara Khamara;
1906 - The Book of Good Advice by Reginald Rigby.
Alfred Stieglitz
During a visit to New York in December 1906, Pamela made the acquaintance of the renowned photographer Alfred Stieglitz, who had opened a studio in Manhattan known as the "Little Galleries of the Photo-Secession" at 291 Fifth Avenue. Pamela came into the "Little Galleries" and asked Stieglitz to look at some of her drawings and watercolors. She was just twenty-eight years old and relatively unknown when they met. Stieglitz was favorably impressed by her youth, exotic appearance and her unusual art. He decided to show her work because he thought it would be "highly instructive to compare drawings and photographs in order to judge photography's possibilities and limitations."
The first ten days of the exhibition were very lightly attended. Then, a review appeared in the "New York Sun" newspaper, by James Gibbons Honeker, that was full of praise. After this review was published, the exhibition's attendance soared and most of her works were sold. Stieglitz took photographs of 22 of her paintings and issued a special platinum print portfolio edition. Her show attracted far more visitors to the gallery than any of Stieglitz's previous photography shows. The success of her show is considered to be a major turning point in Stieglitz's career; he no longer was just a revolutionary promoter of photography but was now a revolutionary promoter of all the modern visual arts.
Pamela had two more exhibitions at Stieglitz's gallery: a joint showing, in February 1908, with Willi Geiger and Donald Shaw MacLaughlin; and another solo exhibition in March 1909. The group exhibition in 1908 was lightly attended; however, the 1909 solo exhibition was more successful.
Waite-Smith Tarot
Pamela is best known for designing and illustrating what is now called the Waite-Smith deck of tarot cards for the noted occultist, Arthur Edward Waite. In 1909, Waite commissioned Smith to produce a new tarot deck that would be of artistic and esoteric quality yet readily adaptable for divinatory purposes. The result was the unique Waite-Smith deck which is the world's most popular 78-card tarot deck. Each card in the deck has its own unique scene which may be associated with the divinatory meaning of the card. Waite was probably involved only in the design of the 22 cards of the Major Arcana; the remaining 56 cards of the Minor Arcana were essentially left to Pamela to create on her own. Besides Waite, the main inspiration for her design of the Major Arcana was the 18th century French Tarot of Marseilles. A major inspiration for the pip cards appears to have been the 15th century Italian Sola Busca Tarot.
Becomes a Roman Catholic
In 1911, much to the chagrin of her artistic associates and her fraters and sororers in the Golden Dawn, Pixie Smith converted to Roman Catholicism. She apparently remained an actively practicing Roman Catholic for the remainder of her life. This act marked the beginning of a gradual withdrawal from close relationships with almost all of her former friends and colleagues. The amount and frequency of her artistic output also declined. There is virtually nothing known of her artistic work after the end of World War I. From 1911 through 1918, I am aware of only the following activities:
1911 - Illustrated Bram Stoker's last novel entitled The Lair of the White Worm.
1912 - Participated in a New York show sponsored by the Berlin Photographic Company.
1913 - Exhibited her work at the Exposition Universelle et International held in Ghent, Belgium.
1913 - Illustrated Ellen Terry's book entitled The Russian Ballet.
1913 - Published the illustrated book entitled Bluebeard.
1914 - Illustrated Eunice Fuller's work entitled The Book of Friendly Giants.
1915-1918 - Produced a number of posters supporting the War effort and various relief funds.
Retirement to Cornwall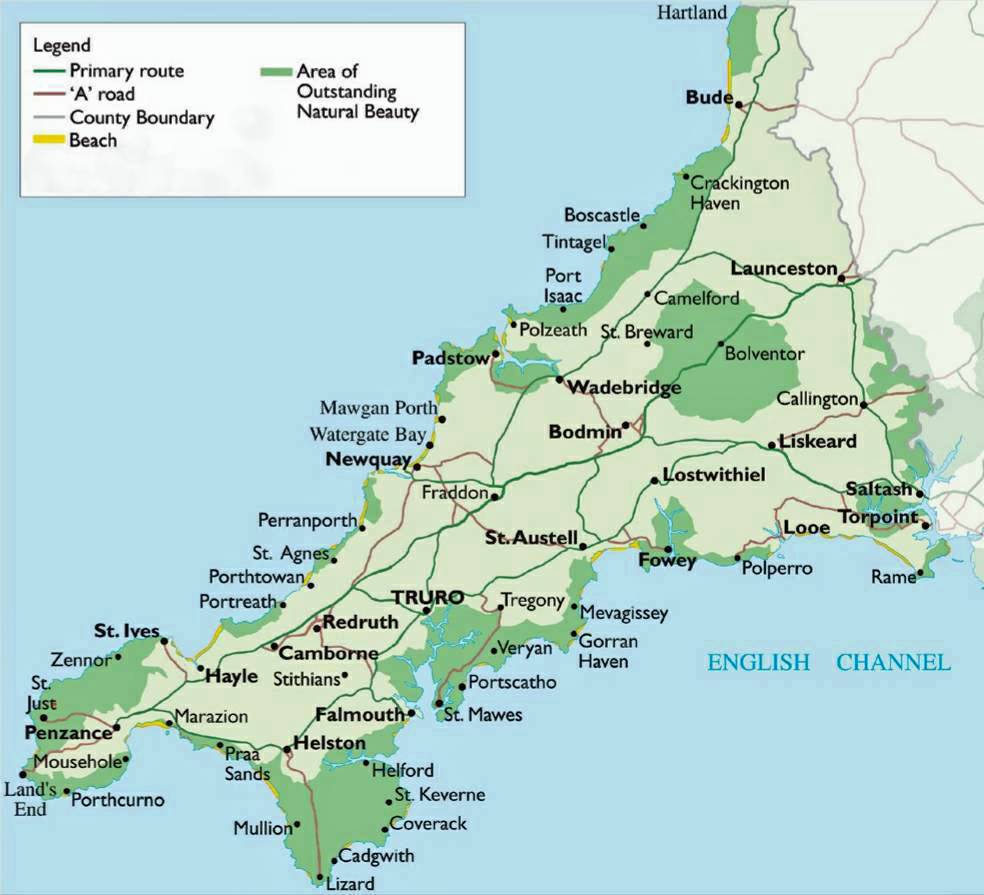 Map of the County of Cornwall in southwest England, showing both Lizard (south Cornwall) and Bude (northwest Cornwall), where Pamela Colman Smith lived during her retirement.

In late 1918, Pamela received a legacy from a deceased uncle (probably Theodore E. Smith). This money enabled her to permanently relocate to Cornwall in southwest England. This County was and still is an exceptionally beautiful location, popular with artists. However, in my opinion, she chose that area because Pixies were believed to be particularly concentrated in the region around Devon and Cornwall. She always thought herself as a pixie who really didn't fit in well among ordinary humans. She once told W. B. Yeats that she had been able to see fairies in Ireland. I hope that she found and was able to see what she was looking for in Cornwall!

She initially settled in southern Cornwall, at Parc Garland in the Lizard Peninsula. This area is beautiful at any time of the year and is considered to be a wonderful source of inspiration for artists and writers. Almost surrounded by the sea, the peninsula stands alone, in a very real sense, from the rest of Cornwall. She remained there until the beginning of World War II.

In 1942, she moved to Bude, which is a small, exceptionally picturesque, seaside resort town in North Cornwall, located at the mouth of the River Neet. Thereafter, she lived a very quiet life, remaining a Roman Catholic to the end. In 1946, Pamela made one last trip to the United States where she visited the New York artist, Alphaeus Philemon Cole and his wife Peggy. She purportedly told Peggy Cole that she should become a Catholic because it was such fun! PCS died at 2 Bencoolen House in Bude, Cornwall on the 18th of September 1951 [see her English death registration record].
| | | |
| --- | --- | --- |
| A Cornish Pixie | Watercolor Painting of The Lizard in Cornwall by Frederick Parr (ca. 1925) | Photograph of the seacoast at Bude in Cornwall |
References: 1) Stuart R. Kaplan, The Artwork and Times of Pamela Colman Smith (2009).
2) Richard Whelan, Alfred Stieglitz A Biography (1995), pages 218-220, 235, 237, 247, and 255.
3) K. Frank Jensen, "The Early Waite-Smith Tarot Editions" (June 2005), article in The Playing Card, Magazine of the International Playing Card Society.
4) New York State Reporter, Volume 97, New York State Court of Appeals, Central Trust Company versus West India Improvement Company, pages 853-872.
5) Robert M. Place, The Tarot: History, Symbolism, and Divination (2005), pages 177-186.
6) Letters to Mary B. Reed (1896-1900), Pamela Colman Smith Collection, Bryn Mawr College Library Special Collections


Disclaimer
This website is being created mainly as an intellectual exercise for my own personal amazement and amusement. Even so, the results of this exercise are being freely made available to anyone who may have similar interests by accessing this web site.
Unless otherwise stated, this site presents my interpretations of the genealogy, ideas and work of Pamela Coleman Smith, some of her friends and colleagues. Such interpretations should not be considered necessarily complete or accurate. I am solely responsible for the errors, whether objective or subjective, that may be found.

My Websites
I currently support twenty-four websites. Fifteen sites are related to philosophy and art and nine are related to genealogy and local history. Hyperlinks to these sites are shown below.
Philosophy and Art:
* Sites that are still under construction
Genealogy and Local History:

Copyrightę 2010 by Phil Norfleet
All Rights Reserved. Published in the United States of America. My essays and the results of my genealogical research, provided at this web site, may be reproduced for nonprofit personal or educational use only. Any commercial use of these materials is a violation of United States copyright laws and is strictly prohibited.